7 Ways to Reclaim Christmas from Consumerism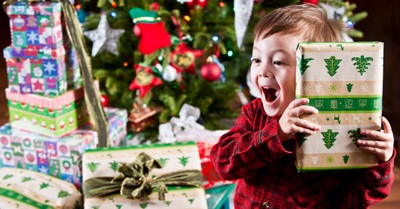 By Emily Maust Wood, Crosswalk.com
In the process of renovating our old house, my husband and I just moved into the smaller of two attic bedrooms. After depositing half our clothing into it, the room had visibly shrunk, and I knew that I was going to have to choose between sleeping on my bed and sleeping on my stuff.
I picked my bed. And so began what I like to call The Purge, which sounds extreme and dystopian, but in reality was neither.
It started, initially, in an effort to stop feeling disgusted with myself. I was writing about coping with being "poor," shopping sales and clipping coupons and buying clothing secondhand, but I was still complaining about being unable to cram all of my clothing into a room bigger than some people's homes.
That there's a disconnect somewhere is an understatement.
Since our move happened right as stores started rolling out holiday merchandise, I needed a defense from overbuying – and fast. And more than I wanted to feel less repulsed by myself, I wanted to examine what we could do to celebrate this holiday to actually honor the event that started it all – God becoming flesh to be with, to teach, to save his people.
This means more than asking, "Would Jesus use only biodegradable tinsel?" I don't think that we reclaim this holiday just by sticking magnetic manger scenes on our cars, flatly denying that some of our neighbors celebrate other holidays this season, or dressing our kids up as bed sheet angels and praying that in the sugar crash they'll remember that Jesus is the reason we all overate.
I find it hard to strike a balance between the overdone consumerist Christmas and the Christmas so simple that it no longer feels like celebration. It's not just another day in December – the birth of the long-awaited Messiah didn't mark just another day in human history.
If the holiday season seems to you like a perfect time to rage against the machine, be my guest. You might be ready for more extreme measures than you'll find here. If you're not ready to pull the plug on your favorite holiday movie or sacrifice your honey ham, but are hoping to reclaim some of the season's simplicity, I invite you to read on.
Refining the Wish List
Good news: gift giving predates commercialism. People were exchanging tokens of affection long before big box stores saw their chance to turn a profit on the ties that bind.
I think the key to retaining gifts as part of our traditions is to buy quality items, sustainably and fairly. This might demand more concern from us about complicated things like sourcing and labor practices than we tend to show when one of our favorite stores announces a sale or we're warding off a tantrum. But unless we're willing to get uncomfortable with the discrepancy of offering a child a gift made by an underprivileged (and probably unfairly treated) child, I'm not sure that our version of Christmas is reflecting Christian values as well as it could.
Buying items that are made fairly and designed to last might mean that we can afford fewer gifts, but having to haul fewer things home might be a blessing in itself. One high-quality gift is worth more than three that won't survive to see the new year.
Banish Impulse Buying
The best piece of advice I've heard all year about our acquisition of stuff came from someone's grandmother: if you want something, wait a month; you'll either want it more or discover that you don't have a need for it after all.
I consigned a Tupperware container in my closet to hold all the little things over the year that reminded me of my loved ones. I stuck Post-It notes to them that said things like, "Mom – Christmas," and in November I dumped out the box and took inventory of who on my shopping list was still left. It has all but eliminated the last-minute buying of mass-produced gifts that used to define my Christmas shopping. It may be the smartest thing I have ever done.
One In, One Out
This policy is pretty simple and, as an added bonus, works all year long. It goes like this: For each new item you decide to keep, you donate one clean, functioning item from the stash you already own.
Caveat: Stress tends to percolate if the decision to turn some things out follows right on the heels of a wave of things coming in. Instead of donating immediately after the holidays, consider donating in the fall, as a precursor to getting more stuff – or a little later, in conjunction with spring cleaning.
In the process, ask yourself why you didn't want to keep these things: Was it an impulse buy? Did it fall out of style?
Take notes on what motivates you to hang on to the things that survive the cycle year after year: What makes you happy? What has added value to your life?
Alternative Gifts: Collect Experiences Instead
If, for 364 days out of the year, you catch yourself thinking, "I have too much stuff," my friend, it is possible that you have too much stuff. If you're unsure, try the thought exercise devised by Wendell Berry: "Don't own so much clutter that you will be relieved to see your house catch fire."
Propose a family trip in lieu of the usual holiday hustle. Buy a tent for pre-paid summer vacations. Score concert tickets for your sister, or talk your spouse into a Tough Mudder (you know I'm trying). If your life could stand more love and exercise, adopt a shelter dog. Invest in your health. Give your babysitter a raise. Fly a friend home for the holidays. Ask your friends and family what you all really want out of the next year, and invest your Christmas cash in making it happen.
Expand Your Horizons
Learn from others' experiences. Discover what the season means to families across oceans – and what it means to your neighbor too. If you're sure that the only way to help others at Christmas is to write a check – and that you don't know anyone in need by name, drop your to-do lists and listen.
Be still and open, and let yourself see the need. Christmas carries with it a lot of pain for some people, and they might need a place to talk freely. Talk to your pastor; churches often give to families in need without fanfare or official programs.
And if none of that sounds like your style, bake two pies and give one to your neighbor.
Make Your Peace with Imperfection
Recruit younger helpers instead of banishing them from the kitchen. Be okay with imperfect cookies, awkward family moments, and flour in every crevice of your home. I think that this is exactly what the holiday is meant to call to mind: being together, in the mess, and knowing that God is here with us, in our mess, too. We can't drive him out, and you know sometimes we've tried.
Keep First Things First
The mystery of that kind of love doesn't expire when we cram plastic trees back into boxes, settle into the dark, and wait for spring. More than we need to debate how to keep Christ in his own holiday or prescribe what the season should look like, we need the assurance that we are known and wanted.
When we're waylaid by doubt or overrun by the illusion that we need to be and do more, we recall that the Lord of hosts knows our struggles, because he lived among us. He subjected himself to time and waiting and tension. He wept with us, and he healed us – and he did the work we could not do. He hasn't finished the story yet, but he will someday. In the meantime, God is with us, showing us daily – if we will see it – that we are deeply loved by a God who saw us in our brokenness and, instead of turning away, came to us as a child.
Emily Maust Wood is a freelance editor and fitness coach. She lives with her husband and shelter dog, collects old books and broken things, and worries about where her running shoes come from. Charmed by the idea of restoring an old home, she chronicles the adventure at lacorbeille.wordpress.com.
Publication date: December 15, 2014
Photo credit: ©Getty Images/RonTech2000