Sitting Together in Hard Times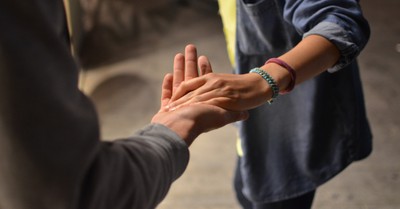 By Megan Moore, Crosswalk.com
We will all experience challenging times in life. Jesus Himself told us that "in this world you will have trouble" (John 16:33). We have all likely known someone helpful and comforting to have around when we go through those challenging times, and we have all likely known someone who makes the situation harder, despite their intentions. Praying is always good. Bringing a meal or helping with schedules are great tangible ways to care for others. But what about just sitting with someone in their time of need? How can we ensure that we are the type of person who helps others? Who doesn't make things more difficult? Who provides true comfort and empathy rather than empty words? The way that we are to treat each other during hard times can be summed up in one Bible verse: "Rejoice with those who rejoice; mourn with those who mourn" (Romans 12:15).
A Time for Everything
Often, we want to just make things better, easier, and more understandable. We try to heal wounds that are too fresh to be healed and give explanations to events that may never be understood this side of heaven. We want to avoid the uncomfortable pain and lack of explanation. Platitudes such as "Everything happens for a reason" invoke eye-rolls because they gloss over the pain of being human. It is ok to hurt, to mourn, and to grieve. It's ok to just say to someone, "I'm sorry you are experiencing this," or "This is just so terrible." Ecclesiastes 3 tells us that "there is a time for everything, and a season for every activity under the heavens: …a time to weep and a time to laugh, a time to mourn and a time to dance,...a time to embrace and a time to refrain from embracing,...a time to be silent and a time to speak…." Like Romans 12:15 says, when a friend is mourning, it is time for us to mourn with them.
Job's Friends
The book of Job is often the first place we look when we want to discuss suffering. Job's friends started on the right track to help him in his pain. "When Job's three friends, Eliphaz the Temanite, Bildad the Shuhite and Zophar the Naamathite, heard about all the troubles that had come upon him, they set out from their homes and met together by agreement to go and sympathize with him and comfort him. When they saw him from a distance, they could hardly recognize him; they began to weep aloud, and they tore their robes and sprinkled dust on their heads. Then they sat on the ground with him for seven days and seven nights. No one said a word to him because they saw how great his suffering was" Job 2:11-13). What a beautiful friendship! They showed up and mourned together. They were hurt for their friend, and they loved him simply by being by his side.
But then they started talking. They gave lengthy speeches telling Job that he must have done something wrong, attempting to explain God's actions. This provided no comfort at all to Job. In fact, it upset him even more. In Job 16:2-5, Job responds to his friends, "I have heard many things like these; you are miserable comforters, all of you! Will your long-winded speeches never end? What ails you that you keep on arguing? I also could speak like you, if you were in my place; I could make fine speeches against you and shake my head at you. But my mouth would encourage you; comfort from my lips would bring you relief."
Not only did their words cause more hurt to Job, but in trying to provide answers on behalf of God, they were just wrong. As the Lord said, in Job 42:7 "to Eliphaz the Temanite, 'I am angry with you and your two friends, because you have not spoken the truth about Me, as my servant Job has." We do not know the inner workings of the spiritual realm. We do not know why terrible things happen other than that we live in a fallen world. We don't have to know it all because God does! "Of the depth of the riches of the wisdom and knowledge of God! How unsearchable His judgments, and His paths beyond tracing out! Who has known the mind of the Lord? Or who has been His counselor?" (Romans 11:33-34). We should not offer words of explanation on God's behalf because we are not capable of such knowledge. "Those who guard their mouths and their tongues keep themselves from calamity" (Proverbs 21:23).
What to Do
When we do not know what to say to our friends or what to pray about their situation, we take comfort in the knowledge that these circumstances are not a surprise to God and not beyond His almighty power. Romans 8:26 guides us in how to pray, telling us that "the Spirit helps us in our weakness. We do not know what we ought to pray for, but the Spirit himself intercedes for us through wordless groans." Sitting quietly with someone provides more comfort than empty words. The power of silence and stillness are sprinkled throughout Scripture. "The Lord will fight for you; you need only be still" (Exodus 14:14). "Be still and know that I am God" (Psalm 46:10). "The one who has knowledge uses words with restraint, and whoever has understanding is even-tempered. Even fools are thought wise if they keep silent, and discerning if they hold their tongues" (Proverbs 17:27-28). The Lord appeared to Elijah in a gentle whisper (1 Kings 19:11-13).
While we do not need to fill the space with lengthy speeches or attempted explanations, or empty platitudes, we can rest in the truth that we are equipped to provide comfort. "Praise be to the God and Father of our Lord Jesus Christ, the Father of compassion and the God of all comfort, who comforts us in all our troubles, so that we can comfort those in any trouble with the comfort we ourselves receive from God" (2 Corinthians 1:3-6).
The Good Samaritan
In Luke 10:25-37, we read the story of the good Samaritan. Jesus tells a story of a man walking along the road when he was robbed, beaten, and left for dead. A couple of people see him on the side of the road and just keep going about their business. Then a man from Samaria takes pity on him. "He went to him and bandaged his wounds, pouring on oil and wine. Then he put the man on his own donkey, brought him to an inn and took care of him" (v. 34).
This dramatic example of caring for someone supports what John writes in 1 John 3:18: "Dear children, let us not love with words or speech, but in action and in truth." When the time comes for us to love others through their challenging times, may we be people who "carry each other's burdens, and in this way you will fulfill the law of Christ" (Galatians 6:2). May we be people who love with fewer words and more actions.
Photo Credit: ©Unsplash/Remi Walle
Megan Moore is a military spouse and mom of 3 (through birth and adoption). A speech-language pathologist by training, she now spends her time moving around the country every couple of years. She is passionate about special needs, adoption, and ice cream.
Related podcast:
The views and opinions expressed in this podcast are those of the speakers and do not necessarily reflect the views or positions of Salem Web Network and Salem Media Group.
Related video:
Video credit: ©RhondaStoppe/SWN